I'm still pinching myself. This morning I woke up all dizzy and disoriented because I've got a bit of a head cold. I opened up my browser which I've got set to my etsy page and my jaw just dropped to the floor. I blinked a few times and I think I refreshed like 4 0r 5 times to make sure it was real haha I sold 11 items while I was sleeping!!! I still don't believe it! I have surpased my goal for April to selling 50 items and the big 300 total items sold is only a few sales away! *jumps for joy* I hope that things keep moving in this upward direction!
So as you can imagine my day was pretty busy. I am fresh out of business cards so the first thing I did today was go get ink for my printer I've been out for about a week now. After that, I came home and set up a template to print my new box labels and some business cards. Up until now I've been using the vertical design for my cards but for temporary use and to see what they look like printed out I printed up the horizontal design ones. Gotta say, I really like them. Mostly because they are designed to match my box labels. Anyways, I finally finished cutting them all.. my arm is super tired now!
PS. I forgot to remind you guys that my sale ends tomorrow whenever I wake up and start editing prices!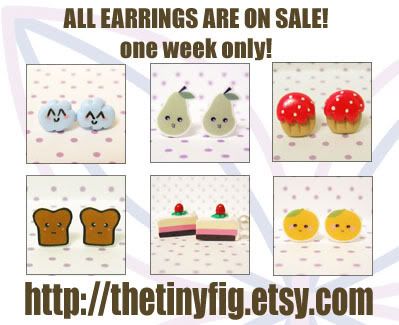 April 16th - 23rd. All prices have been marked down up to 20%